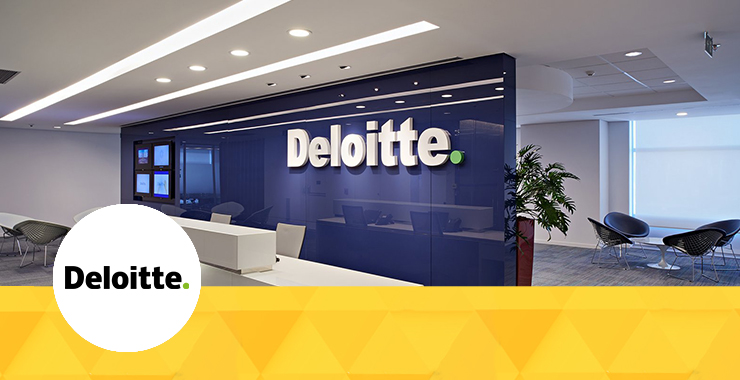 Tax AM | Deloitte Careers | Job Alert | Jobs in Bangalore 2022
About Company
Deloitte 's positive and supportive culture encourages our people to do their best work every day. We celebrate individuals by recognizing their uniqueness and offering them the flexibility to make daily choices that can help them to be healthy, centered, confident, and aware. We offer well-being programs and are continuously looking for new ways to maintain a culture that is inclusive, invites authenticity, leverages our diversity, and where our people excel and lead healthy, happy lives
Corporate citizenship
Deloitte is led by a purpose: to make an impact that matters. This purpose defines who we are and extends to relationships with our clients, our people, and our communities. We believe that business has the power to inspire and transform. We focus on education, giving, skill-based volunteerism, and leadership to help drive positive social impact in our communities.
Deloitte is the brand under which tens of thousands of dedicated professionals in independent firms throughout the world collaborate to provide audit, consulting, financial advisory, risk management and tax services to selected clients. These firms are members of Deloitte Touche Tohmatsu Limited DTTL, a UK private company limited by guarantee.
Each member firm provides services in a particular geographic area and is subject to the laws and professional regulations of the particular country or countries in which it operates. DTTL does not itself provide services to clients. DTTL and each DTTL member firm are separate and distinct legal entities, which cannot obligate each other. DTTL and each DTTL member firm are liable only for their own acts or omissions and not those of each other.
Each DTTL member firm is structured differently in accordance with national laws, regulations, customary practice, and other factors, and may secure the provision of professional services in its territory through subsidiaries, affiliates and/or other entities.
In the United States, Deloitte LLP is the member firm of DTTL. Like DTTL, Deloitte LLP does not provide services to clients. Instead, services are primarily provided by the subsidiaries of Deloitte LLP, including:
Deloitte & Touche LLP
Deloitte Consulting LLP
Deloitte Financial Advisory Services LLP
Deloitte Tax LLP
Tax Assistant Manager Job Description
Deloitte, the global leader in professional services, offers unparalleled possibilities to succeed and reach your full potential. Deloitte provides unequalled chances for success and realising your full potential. The Group Multinational corporations are functioning in an unprecedentedly complex environment.
Transfer pricing has become a key risk management concern due to the increasing volume and complexity of intercompany transactions and transfer pricing legislation, as well as enhanced enforcement initiatives globally. Discover more about our Tax Practice. You'll be doing work. You will establish and nurture excellent working connections with teams and clients as an Assistant Manager in our Tax team, with the goal of exceeding client expectations.
Responsibilities
Drafting transfer pricing studies to be maintained as contemporaneous documentation
Preparation and filing of accountant's report in Form 3CEB stating the cross-border transactions of multinational corporations
Drafting of submissions, appeals, etc. to be filed with the respective tax authorities in the appropriate syntax.
Conducting benchmarking studies on database i.e. Prowess and Capitaline.
Suggesting clients on the appropriate arm's length to be maintained through advisory planning memos.
Representing clients before the tax authorities like TPOs, AOs, CIT (A), etc.
Assisting in Transfer pricing advisory and restructuring assignments.
Involving in key Transfer Pricing Planning assignments including Cost Allocation, Profit Planning, Shifting to a Low Risk Model, Agreements Drafting and Intellectual Property Restructuring.
Advising clients on the applicability of the latest amendments related to domestic transfer pricing to their business  Reviewing the correctness and authenticity of inter-company agreements between subsidiaries
Visiting clients to understand their business and conducting functional interviews.
Imparting knowledge on various transfer pricing topics to new employees and freshers through learning sessions 
Eligibilities
CA or CS or MBA Finance Primer Institutes Tax Transfer Pricing.
1-2 year Experience in Transfer Pricing  Strong Technical Knowledge & clarity of concepts  Leadership Qualities.
Creative and Innovative thinking.
Effective communication and presentation skills  People's person.
Persistent and persuasive.
Benefit
At Deloitte, we know that great people make a great organization. We value our people and offer employees a broad range of benefits.
How you'll grow
At Deloitte, we've invested a great deal to create a rich environment in which our professionals can grow. We want all our people to develop in their own way, playing to their own strengths as they hone their leadership skills, and as a part of our efforts, we provide our professionals with a variety of learning and networking opportunities—including exposure to leaders, sponsors, coaches, and challenging assignments—to help accelerate their careers along the way. No two people learn in exactly the same way.
Therefore, we provide a range of resources, including live classrooms, team‑based learning, and e-Learning. DU: The Leadership Center in India, our state-of-the-art, world-class learning center in the Hyderabad office is an extension of the Deloitte University (DU) in Westlake, Texas, and represents a tangible symbol of our commitment to our people's growth and development.
Аррly Link is given belоw jоin us fоr Reсent Uрdаte