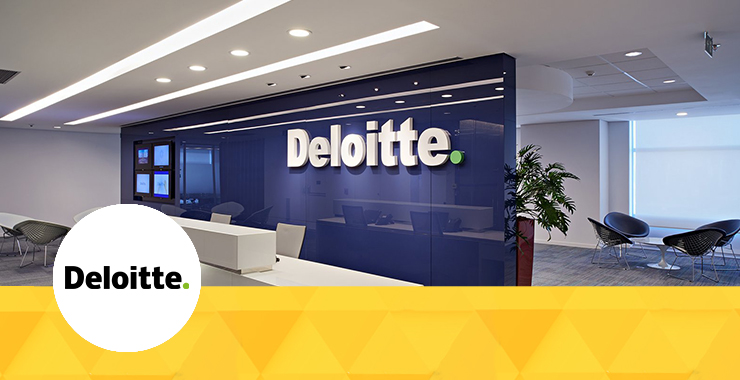 Encore-Core | Deloitte Careers | Job Alert | Jobs in Hyderabad 2022
About Company
Deloitte 's positive and supportive culture encourages our people to do their best work every day. We celebrate individuals by recognizing their uniqueness and offering them the flexibility to make daily choices that can help them to be healthy, centered, confident, and aware. We offer well-being programs and are continuously looking for new ways to maintain a culture that is inclusive, invites authenticity, leverages our diversity, and where our people excel and lead healthy, happy lives
Corporate citizenship
Deloitte is led by a purpose: to make an impact that matters. This purpose defines who we are and extends to relationships with our clients, our people, and our communities. We believe that business has the power to inspire and transform. We focus on education, giving, skill-based volunteerism, and leadership to help drive positive social impact in our communities.
Deloitte is the brand under which tens of thousands of dedicated professionals in independent firms throughout the world collaborate to provide audit, consulting, financial advisory, risk management and tax services to selected clients. These firms are members of Deloitte Touche Tohmatsu Limited DTTL, a UK private company limited by guarantee.
Each member firm provides services in a particular geographic area and is subject to the laws and professional regulations of the particular country or countries in which it operates. DTTL does not itself provide services to clients. DTTL and each DTTL member firm are separate and distinct legal entities, which cannot obligate each other. DTTL and each DTTL member firm are liable only for their own acts or omissions and not those of each other.
Each DTTL member firm is structured differently in accordance with national laws, regulations, customary practice, and other factors, and may secure the provision of professional services in its territory through subsidiaries, affiliates and/or other entities.
In the United States, Deloitte LLP is the member firm of DTTL. Like DTTL, Deloitte LLP does not provide services to clients. Instead, services are primarily provided by the subsidiaries of Deloitte LLP, including:
Deloitte & Touche LLP
Deloitte Consulting LLP
Deloitte Financial Advisory Services LLP
Deloitte Tax LLP
Deloitte Encore Program –End User Support Job Description
Do you want to work in the interesting field of business insights and market intelligence? Do you enjoy the interaction between business economics/finance, industry dynamics, competitive intelligence, and the macroeconomic environment? If you answered yes, CoRe Research Services is the team for you. The team supports, develops, publishes, and provides market intelligence outputs for internal practitioners around the world, providing insights to Deloitte's market strategies.
Responsibilities
Provide strategic insights to Deloitte's senior leadership on key market and client priorities related to (but not limited to) growth strategies, competition, innovation, industry disruptions, and alliances and ecosystems
Learn and apply established research tools and methodologies to develop consultative research solutions.
Suggest alternatives, and creative solutions to address current and anticipatory needs of clients and stakeholders. Take the relationship beyond transactional level.
Connect various pieces of information by identifying patterns and forming logical structure to present a compelling story.
Present crisp and actionable insights/recommendations for senior leadership with an acute focus for 'so-what' for Deloitte's clients and businesses
Manage results in projects following the best practices in project and time management, while adhering to quality guidelines always
Provide consultative research solutions to senior Deloitte practitioners and suggest alternatives, and creative solutions to address current and anticipatory needs of clients and stakeholders. Take the relationship beyond transactional level.
Contribute to practice development and operational activities
Eligibilities
Scoping

Ability to clearly understand the project objectives through effective listening, comprehension, and probing skills
Adept in conducting preliminary research to ascertain data availability and estimate time/effort. Use this as input for scope

Secondary research

Ability to find information from authentic sources in an efficient manner. This would require,
Good knowledge of databases, public sources of information, and/or industry specific sources
Ability to validate/triangulate sources for relevancy and accuracy

Analysis

Analytical skills to provide actionable insights to practitioners. This will require,
Quantitative analysis of financial statements and operating metrics
Understanding of various strategic / forecasting models and frameworks
Critical thinking that can help look beyond obvious and create hypothesis
Ability to generate extrapolative and forward-looking insights
Experience in processing information in compelling visualization within logical structure is preferred skill

Industry

Knowledge of Financial Services (includes Banking and Capital Markets, Insurance, Real Estate and Investment Management) is preferred, especially in terms of,
Key performance indicators (KPIs) specific to the industry
Understanding of the demand-supply-prices and economic factors driving the KPIs
Trends, information sources, and dynamics in the industry

Business writing

Strong business writing skills—narrative, appealing, succinct. Should be able to convey complex research ideas in a compelling and easier way through writing
Strong storyboarding skills are preferred.
Adept at written communication with stakeholders in adherence to email etiquettes
Prior experience in report writing for senior management and/or external publications is an added advantage
Articulate ideas and point of views in a confident and effective manner in client calls during all stages of the project lifecycle
Communication should reflect logical thinking and consultative approach

MBA from a reputed school in India or outside
MA-Eco from reputed universities
1-3 years' experience in business research in client service or captive setup
Client-service exposure or experience in working with senior leadership directly is a preferred
Clear and concise communication. Strong written and oral communications skills – ability to crisply and concisely convey complex information to busy executives
Logical structuring – structured approach to problem solving and ability to perform root cause analysis of client problems
Ability to synthesize data into meaningful conclusions and recommendations
Ability to handle detailed work independently. Practical, hands-on and get things done
Ability to connect financial metrics with operational activities and macroeconomic events
Proficiency in Microsoft Word, Excel and PowerPoint Solid research skills and familiarity with various research tools
Benefit
At Deloitte, we know that great people make a great organization. We value our people and offer employees a broad range of benefits
How you'll grow
Our professional development plan at Deloitte focuses on assisting people at all levels of their careers in identifying and utilising their skills to accomplish their best job every day. We believe there is always room to learn, from entry-level staff to senior leaders. We provide opportunity to develop world-class skills as well as hands-on experience in the global, ever-changing business world. From on-the-job training to formal growth,
Programs at Deloitte University provide our workers with numerous options to advance their careers.
Аррly Link is given belоw jоin us fоr Reсent Uрdаte