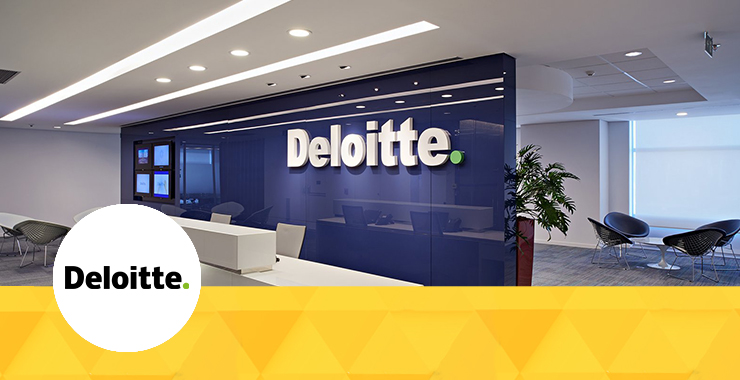 Analyst | Deloitte Careers | Job Alert | Jobs in Hyderabad 2022
About Company
Deloitte 's positive and supportive culture encourages our people to do their best work every day. We celebrate individuals by recognizing their uniqueness and offering them the flexibility to make daily choices that can help them to be healthy, centered, confident, and aware. We offer well-being programs and are continuously looking for new ways to maintain a culture that is inclusive, invites authenticity, leverages our diversity, and where our people excel and lead healthy, happy lives
Corporate citizenship
Deloitte is led by a purpose: to make an impact that matters. This purpose defines who we are and extends to relationships with our clients, our people, and our communities. We believe that business has the power to inspire and transform. We focus on education, giving, skill-based volunteerism, and leadership to help drive positive social impact in our communities.
Deloitte is the brand under which tens of thousands of dedicated professionals in independent firms throughout the world collaborate to provide audit, consulting, financial advisory, risk management and tax services to selected clients. These firms are members of Deloitte Touche Tohmatsu Limited DTTL, a UK private company limited by guarantee.
Each member firm provides services in a particular geographic area and is subject to the laws and professional regulations of the particular country or countries in which it operates. DTTL does not itself provide services to clients. DTTL and each DTTL member firm are separate and distinct legal entities, which cannot obligate each other. DTTL and each DTTL member firm are liable only for their own acts or omissions and not those of each other.
Each DTTL member firm is structured differently in accordance with national laws, regulations, customary practice, and other factors, and may secure the provision of professional services in its territory through subsidiaries, affiliates and/or other entities.
In the United States, Deloitte LLP is the member firm of DTTL. Like DTTL, Deloitte LLP does not provide services to clients. Instead, services are primarily provided by the subsidiaries of Deloitte LLP, including:
Deloitte & Touche LLP
Deloitte Consulting LLP
Deloitte Financial Advisory Services LLP
Deloitte Tax LLP
Analyst Jobs Description
The Deloitte Leadership Academy (DLA) is a cutting-edge, branded educational institute that serves as a talent exporter throughout the firm, emphasising human capabilities as complementary to technical ones and setting the standard for developing growth-oriented, inclusive professionals and leaders for the future of work. DLA's objectives are as follows:
intentionally integrate purposeful and impactful leadership skills and capabilities to cultivate stronger internal and external relationships, drive business growth, fuel engagement and performance, enhance our value, and feed our social and client impact, and
create the next generation of Deloitte professionals and leaders, optimizing the human potential and agility of all our people and enabling them to thrive, change, and lead in the hybrid and technology-focused work environment.
Responsibilities
Support the modeling of financial impact of compensation plans through market range analysis and simulation modeling
Partner closely with various teams, our market data partner and other internal clients in job analysis and benchmarking, formulating competitive market pay strategies, budgeting of merit, annual incentive plans, spend analysis and final finance reconciliation process
Survey management for all businesses—Work for specific businesses to benchmarking the right jobs at the right level. Coordinate with survey houses on submission, reporting, and analysis.
Implement and enforce high standards for quality deliverables.
Collaborate with the Comp CoE in macro planning and forecasting of annual incentive budgets.
Assist with internal quality assurance/compliance reviews as required
Coach and mentor new hires and work with them on the Knowledge transfer process to bring them upto speed on all comp processes
Eligibilities
3-6 Years of experience in HR
MBA HR or graduates in statistics with prior experience in compensation or related business processes
Any Under Graduate (B.Com, BA, BSc, BCA) with prior experience Compensation support related business processes
Experience working in a team environment
Preferred

Experience working in Comp CoE or HRSS comp department of a multinational company

Skills

Experience in working on compensation tools like KeneXa (CompAnalyst), ADP—Comp planning tool, etc.
Proficient in Microsoft Office applications especially, Outlook, Word, Excel and PowerPoint
Effective interpersonal and communication skills
Leadership skills demonstrating strong judgment, problem solving, and decision-making abilities
Experience working in a fast-paced, team environment
Keen attention to detail and accuracy
Experience working independently on multiple assignments or engagements
Mentorship abilities to train junior employees
Benefit
At Deloitte, we know that great people make a great organization. We value our people and offer employees a broad range of benefits
How you'll grow
Our professional development plan at Deloitte focuses on assisting people at all levels of their careers in identifying and utilising their skills to accomplish their best job every day. We believe there is always room to learn, from entry-level staff to senior leaders. We provide opportunity to develop world-class skills as well as hands-on experience in the global, ever-changing business world. From on-the-job training to formal growth,
Programs at Deloitte University provide our workers with numerous options to advance their careers.
Аррly Link is given belоw jоin us fоr Reсent Uрdаte